Apr 29, 2012
2,489
3,264
🥇 Banner finds
🏆 Honorable Mentions:
Detector(s) used

Love to treasure hunt
Primary Interest:

All Treasure Hunting
I met up w beerguy and we swung at a hotspot in the i5 corridor.
I was happy to hunt w a friend, and my first target was a IHP right in front of him!

. He quickly outdid me with a 1900 quarter. We both a few older Canadian cents, and I got another unique token for tobacco. I'll dig it out later.
After beerguy left I wandered the neighborhood and chatted w some folks in front of a 1920s converted homs apartment building. They eagerly gave me permission and in front of an audience of 4, I retrieved a mercury dime - 1935 d in great shape. Everyone, especially me, was stoked. A little swinging later, and I got a pair of paratrooper pilot wings!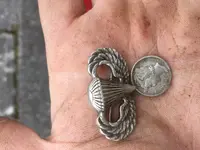 I did a pretty quick lap around the house and only came up w a couple more wheaties. I'll have to go back.
Thanks for reading.