Relic Recovery Specialist

Dec 5, 2008
3,191
2,779
🥇 Banner finds
🏆 Honorable Mentions:
Detector(s) used

Fisher F75 SE/LTD2, minelab Etrac, whites classic id, spectrum xlt, fisher f7, fisher 1266, king of all Tesoro Cibola, Tesoro Vaquero, Fisher 1280-X, minelab equinox, Fisher F75+ Garrett AT MAX
Primary Interest:

Relic Hunting
I can't even put in to words how excited I am. Went out to that permission today Broken_detector, and I've been digging lots of goodies, and found a Banner worthy find. The medal I found was worn on a necklace given out to only 5 women, who were the original 5 sisters of Mercy hospital graduating in 1886. Miss Agnes Gray got this medal some 133 years ago, and I was fortunate enough to find it. The old St. Anne's Academy is no longer there, but the main church is there. These 5 women took care of the men, women, and children of Fort Smith, AR back in a day when the population was so little they could make house calls. I have reached out to the church itself, and am hoping to get ahold of them, and returning the beloved Miss Gray's graduation medal back home to where it began. I was born at Mercy as a child, as well as my twin, and other family. My great great uncle in the 1930's who was Alma Town Marshall Henry Humphrey we're brought here to be tended to by women like these. Maybe even her. I've highlighted in the article mentioning the first graduating class, and Miss Gray's name. This is the biggest Banner I could ever imagine in my life, and I'll be cheeky for years to come.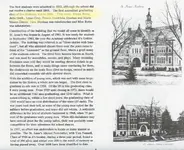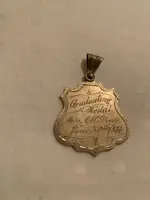 Last edited: