I haven't posted much lately, the truth is that I've not found anything post worthy lately. That changed today.
Tnetter Kurtstuben picked me up and off we went to meet Smittyman at the secret spot.
We did really well at finding a bucket of assorted non treasure items.
The secret is to dig a lot of holes. Your odds of finding something good increase with each hole. I did get a few coins amongst the trash.
I found these molds, two of them, sort of a mold spill. I remember burning myself with these when I was about 5 years old. Ahh, the good old days. They are dated 1964.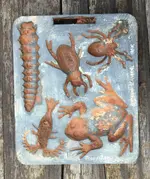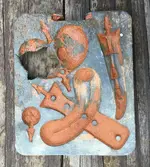 I got a few wheaties, one has been hammered on.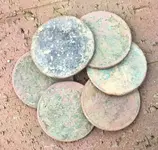 I didn't get any in situ pics of this one. Frankly, I didn't recognize it. It wasn't shiny so I thought it was aluminum but as wiped it in my hand, I suddenly realized it was only the second Barber quarter I've ever found.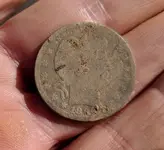 As soon as I realized what it was I ran over to Kurt and Smittyman and rubbed it in their faces, nothing sweeter!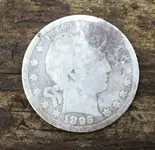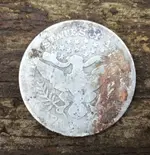 It's a well worn coin, stained and scratched, but a sight for sore eyes after all those bottle caps and trash.
Thanks for looking and good luck on your hunts.