Dec 24, 2012
1,837
2,398
🏆 Honorable Mentions:
Detector(s) used

Minelab Equnox 800... 2 Garrett Pro Pointers, Lesche, and an 18" mini-T- handle and a 31 inch Samson digging tools
Primary Interest:

Metal Detecting
Went to the beach/park today, to see when and if renavations are starting. Found a section about 40x 150 ft,through the middle of this 30 acere 100+ year old park!!! where they has to do some water/sewer work first. I knew this would be more productive than the beach . Got a nice 1926 Merc, and inches away a 1926 Wheat, scored another wheatie, and a handfull of clad, and some trash..................all in all a better than expected couple hours.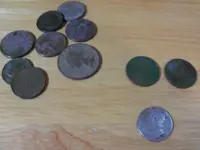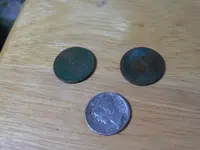 Close to 100 hr. on this Etrac......................its a lot of fun!!!

UPDATE; Got in another two hours before they started topsoiling the area two more wheats (1927, 1945 ) and a 1923 Canadian King George? penny Five hours in this small area =4 Wheaties...... a Merc...........a King George Canadian cent, most from the 1920's and some clad. Cant wait for fall when they start, side walk replacment,....... splash pad.........pavilion........and new play scape
Last edited: