Hey all,
It stood out amongst a bunch of flakes and chips and it's not often I find rocks like this in this area. It also had some wear on it that caught my eye. After consultation with some of you I went back and looked at this stone. Well, turns out I was looking at the wrong features before, but it has all the right ones!
Before I posted abraded edges, seen here:
Now, after talking to you all, I went back and grabbed the stone. I realized that when held in hand, all the worn edges were in contact with my hand:
Not only that, but there is a nice dimple in this rock where the thumb fits. You can see in this photo that the area where the palm and thumb lay appear worn and smooth: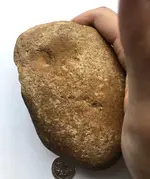 The other side is concaved. That's where your middle, ring, and pink finger lay.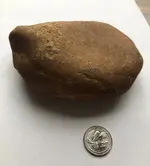 Similar to the thumb area, there's a comfortable groove and a smoothed region where the pointer fingers lay: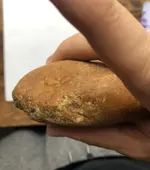 And what you all said to look for was signs of battering. Well, opposite of the natural "handle" on this rock, it's battered! I hadn't even paid attention to this before.
Last, here's a view of the whole rock from the concave side as well as the arrowhead that was found 10 feet away. This whole area was also littered in flakes and chips.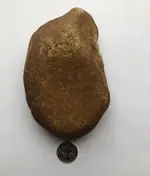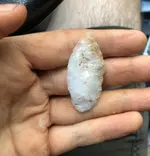 So, with all that said: (1) thank you for the information, I went back and looked at this rock with a totally new perspective after my first post and (2) I would love to hear your thoughts and comments!
Last edited: