Oct 28, 2014
19
97
Detector(s) used

Garrett Ace 350
Garrett AT Pro
Garrett AT Gold
Primary Interest:

All Treasure Hunting
I do not normally post on this forum but felt yesterdays find was important enough to share on here especially for those who do not know nor recognize me from Facebook or another forum. I plan to post on this forum much more from now on. Anyways yesterday I headed out into CT to do some cellar hole hunting with my buddy, Jarrod. Our first spot was a total dud, we never even made it out of our cars as the gate to the parking area was locked and we would have had to walk a mile just to get into the woods. We moved onto the second site which was also a total dud. The site was COVERED and I Mean COVERED with barberry, no swinging room at all, we knew there was a cellar there but we did not see it and needless to say we left that site pretty quickly. Our third site (and our last site) of the day was a nice cellar hole right on an old cart path that extended out from an old abandoned road. This site was not on any maps but was right next to an active hiking trail and easily visible. Because of this, the site had been hit pretty hard by others in the past. I saw an ox shoe lying on a downed tree right next to the cellar hole. Anyways we start swinging, bugs were brutal despite 40% DEET. A couple of horse flies chased me around but there were no yellow jackets so it was all good. About 50 feet away from the cellar hole I get a mid tone on my AT Pro bouncing between 50 and 70. About 6 inches down I pull out a nice big dandy button and notice it has writing on it. I call Jarrod over and wipe the button off on my shirt and then take another look at it. I read out "Long Live the... King". Jarrod let out a sigh of disappointment as he thought I was going to say "President". Despite our disappointment about it not be a GW (so we thought at the time) I had a feeling there was something special about this button so I put it in my bag alongside some dirt to keep it from flaking. We hit the site for about 30 minutes more scoring a few more buttons but by that time we had to get going. When I got home I posted the button on Facebook and realized I had an incredibly rare find, much rarer than the normal GW eagle with star button I found earlier this month at a virgin site. This button is a 1789 "Long Live the King" Button. Sources say it was made in Britain to celebrate King George III's successful recovery from a very serious illness. It also said these buttons are usually only found in places that were still loyal to the British Crown (Obviously in 1789 America was independent). I am not sure why this button was here in CT but I am not complaining. I also read that this button is considered a GW Button which would mean two GW's in one month for me!


Overall I am completely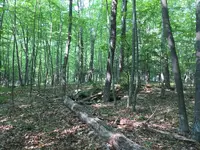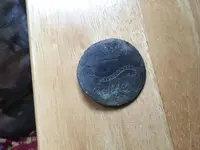 amazed by this find, a find of a lifetime for me for sure. Hopefully you can all get to know me better as I become more active on this forum. Until then, happy hunting everyone!