Apr 18, 2014
98
229
Detector(s) used

Garrett Ace 250
Primary Interest:

All Treasure Hunting
I was metal detecting today with my trusty Garrett Ace 250 at my mom's new house in Sudlersville, MD (Upper Eastern Shore), which apparently dates back to 1910. I had detected there once before and had found a bunch of clad and a '57 wheatie; the wheat had raised my hopes for this hunt today. Found a lot more clad and a '41 wheatie, but the highlight of the day was this "belt buckle" that I had found several inches down after pulling out pieces of iron (thank god for my AT Propointer!) I was glad I avoided scratching it more than twice, but I had NO IDEA how incredible my find was until I got home. Considering the age of the house I figured it would be a Victorian era (late 19th-early 20th century) belt buckle, perhaps a civilian repro of a military buckle after I noticed the thirteen stars. NOPE!
It is a US STAR MILITIA PANEL (BELT) PLATE DATING CIRCA 1850-1865!!! (A spitting image of the one Steve in PA found!)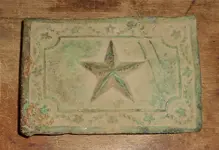 WHAT IS IT DOING IN A 1910 YARD?!?!
Perhaps it's a bit older than 1910...
An 1877 atlas of the county shows a house near exactly where my mom's house is, and with the exact same shape!!!
It was apparently the residence of a "Wm. Nickerson"
I'll have to do more research on this guy and see if he was part of a local/state militia!
Cheers, Kyle