Dec 14, 2017
1,593
3,484
🏆 Honorable Mentions:
Detector(s) used

Nokta Makro Simplex+, Garrett ACE 300, Carrot
Primary Interest:

Metal Detecting
Well folks, it's a little late but here it is. Pictured below is everything I found in 2020 minus a silver washington, a couple axes, a gold earring, a few crotal bells and a some other odds and ends that I either forgot about or returned to landowners. You can see everything better if you click on the pictures and enlarge them.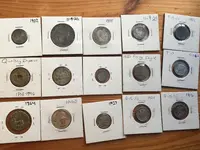 I ended the year with:
1 Gold earring (return)
14 silver coins and relics

1 sterling earring, 1 belt buckle, and part of a matchbox
1853 Trime, 2 barber dimes, 4 mercs, 1 barber quarter, 2 washingtons, and 1 barber half

12 Coppers (or 13 if you include the Qianlong Cash coin)

8 LCs (oldest 1820)
1831 KWIV halfpenny
1837 HT token
1864 2c
Half of a Victorian penny that was turned into a washer (so I guess it's a farthing? lol)

1 1857 Flying Eagle, and 14 IHs (oldest 1859)
4 Military buttons

2 1820s Navy
2 Civil War Era Marines

A small bowl full of clad
A bunch of other odds and ends... I'll attach some individual pictures in a comment below
Oh and for the record, that was 166 hours of hunting.