Feb 2, 2012
493
81
🏆 Honorable Mentions:
Detector(s) used

Minelab- Explorer XS, Excalibur 800, Sovereign XS-2 Pro, Fisher 1280X
Primary Interest:

Metal Detecting
I found these Medals at an old Home site on the River.
The Home is from the late 1800's the house is long gone. This place has been used as a party and camping location for at least the last 35 years.
M.H.S.A.A
Holton
High School
District
Basketball 1955 Champs Class D
Basketball 1956 Champs Class D
880 Relay 1954 3 Place Class D
These Medals are all on a little Sterling Sliver Chain.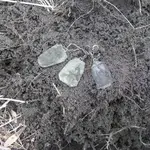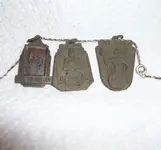 I had no luck at finding the Owner or even the School that they came from on my own.
So I contacted my old History teacher from Holton School, Mr. Rossiter.
Within 30 seconds he had the School nailed, about 5 minutes later he had it down to 4 people that the Medals could belong to.
Mr. Lyle Rossiter was a Member of the 1955 and 1956 Basketball Team but he did not run track and he also still has his Medals.
Just a little while later Mr. Rossiter stopped at my house and told me the Medals belong to Dave Burly.
Mr. Rossiter contacted Mr. Burly and gave him my phone number and Mr. Burly then contacted me.
Mr. Burly told me he would get with me as soon as he got back to Michigan.
Mr. Burly contacted me this morning and told me he was in Holton and if I had a minute or two he would love to come and pick up his Medals.
I told him how to get to my house and said I will see you in 5 minutes.
I gave the Medals back to Dave Burly, it made his day and mine also.

Dave Burly is in the Blue Jacket
He thinks is was about 1959 when he lost the medals, 53 years later he has them back in his hands.
What a Great Day!!!!
Kevin