Oct 25, 2020
1,057
2,746
🥇 Banner finds
Detector(s) used

Garrett ACE 400, Nokta Simplex+
Primary Interest:

All Treasure Hunting
Checked out a closed Tahoe campground on Monday. First target in the first minute was a 1942 wheat, so I thought this was going to be a good spot. Funny how that kind of thing goes sometimes.
Ended up with $2.20 in clad, a junk ring, an old lipstick tube, an old tent stake, various trash and the '42 wheatie.
Today I took my kayak to hit one of the beaches that's a little harder to access. It was a little smokey, but nice and calm, and nobody in sight. Very peaceful!
Managed to get a sterling band, a dental bridge in 16k gold, $2.97 in clad, a '70 Road Runner

and a bunch of junk. Most of the targets were in the 4-5 foot deep range. What a nice day out there, no boats, no beach goers, no dogs and especially no silly 'questions' (hey, whatcha doing?).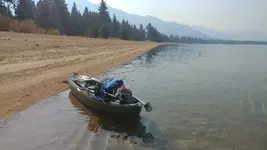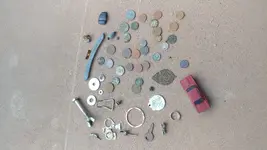 Thanks for lookin' and hope everybody's getting out there!