Apr 20, 2018
1,670
7,996
🏆 Honorable Mentions:
Detector(s) used

Fisher CZ-21, Minelab Equinix 800, ,Garret AT Pro,
Primary Interest:

All Treasure Hunting
I went back to the campus today and spent 4.5 hours detecting. I started walking a grid and cleaning up a section. Things started out slow and I was thinking about moving to another section hoping to do better when I dug a dollar coin. About 10 feet away on the same line I found another. That is only the second time I have dug 2 dollar coins in the same hunt. Around here no one uses the dollar coins so it is unusual to find them at all. 2 passes later out popped the class ring and 3 feet away the locket. Boy am I glad I kept going. I finished with 198 coins with a face value of $16.80, a class ring and a locket.
The class ring is missing the stone and is badly worn. The dirt was firmly compacted into the hole and there was no sign of the missing stone. The date should be on the shield on the side, but it is worn off. According to my jeweler friend the initials are hand engraved and look like WHL. I will be calling the school tomorrow and see if I can get a lead on the owner, but it is a long shot. With no year of graduation and the school has been open for 120 years that a lot of names to check trough. Hopefully I can return it and make it the 13th class ring I have returned. I will keep you posted.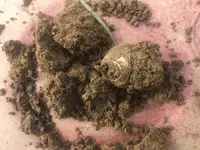 ​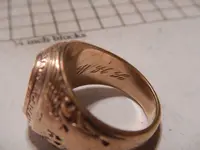 [/CENTER]
That locket looked good at first, but an closer inspection when I opened it it looked like it was junk. I found a small castle made of brass that had been glued to it and a small piece of chain that also looked cheap. I was sure it was junk and with the castle it looked like a cheap souvenir. When I got it home and cleaned it up it was marked 1/20 10k on sterling, so much better than I expected. The chain tests as junk unfortunately.
So all in all a really nice hunt. So far the campus has given a huge amount of clad and now some gold and silver as well. I have only covered a very small part of the campus so more goodies are sure to follow.
Thanks for looking and may your coil lead you good things.