Oct 25, 2020
2,800
7,017
🥇 Banner finds
🏆 Honorable Mentions:
Detector(s) used

Garrett ACE 400, Nokta Simplex+, Nokta Legend
Primary Interest:

All Treasure Hunting
The wind has been blowing like crazy for several days so I headed out to a sandy spot a few hours away to see what may have been uncovered. It's always a crap shoot driving out to this spot as sometimes the wind just covers everything up and it's nothing but barren sand. Fortunately, this time, it was pretty exposed in a few places.
There's no artifact in this pic, it just shows the exposed rocks, chips, shells and bones. The pic is a bit dark and grainy because it was overcast.
This little drill is the finest, most delicate one I've ever found!
The finds included a nice thin platter made from dense volcanic red scoria, several little points, one of which was repurposed into a drill, and the bone awl. The tip of the awl was the only part in the sand and the exposed whiter part was disintegrating quickly, it wouldn't have lasted much longer exposed. The shell beads were used like sequins on caps they crafted from sagebrush fibers to help keep the sun from baking their brains.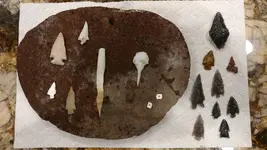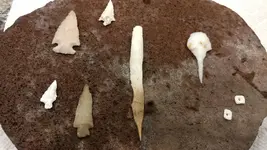 A couple more pics "in situ".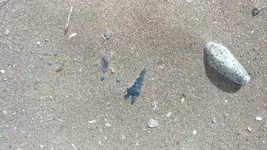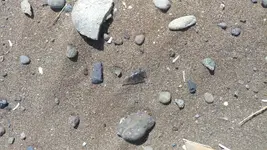 Okay, back to metal detecting now...