Super Moderator
Staff member

Jan 6, 2006
20,846
2,530
🏆 Honorable Mentions:
Detector(s) used

Garrett AT Pro, Ace 250 & Ace 400
Primary Interest:

All Treasure Hunting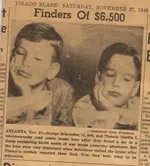 ​
November 27, 1948, George Schroeder, 11, left, and Timmy Martin 7, unconcernedly read comic books after they found a jar in a dump containing $6,500 worth of war bonds yesterday afternoon. The boys were very impressed when detectives visited the house after Timmy's mother reported their find. Now they both want to be detectives.​