Apr 20, 2018
1,608
7,554
🏆 Honorable Mentions:
Detector(s) used

Fisher CZ-21, Minelab Excalibur,Garret AT Pro,
Primary Interest:

All Treasure Hunting
It was rainy and windy at the beach for most of the 4 days we were there. I only had time to cover part of the areas I usually do because we had a meeting for our upcoming trip which took some time and we had to leave early for a Baltimore appointment on Friday. Of course we did have some non detecting luck which helped (see post "My wife gets a surprise in her sandwich and I find gold and diamonds in the parking lot").
I spent 8 hours with the CZ21 at Bethany Beach working the sand before and after the big waves hit. I didn't do as well as usual, but I did find some interesting items and the usual World War 2 ordinance from the beach restorations. All together I found 100 coins with a face value of $8.67, a toy plane, a necklace, a stainless spoon, a carabiner, a Vera Bradley cord bracelet, a dollar coin, a silver earring, a religious medal, a cheapie ring, a fake cob coin, a pair of bolt cutters, a few tabs, foil, bottle caps and the usual tent pegs.
The silver earring is like many I have found before. The religious medal looked good coming out of the hole, but on the back the gold color is wearing off and you can see the aluminum underneath, bummer.
The bolt cutters are pretty rusty. They were up on the edge of the dune where the sand has washed out recently from the high tide wave action. I will try and clean them up, but it may be a wasted effort.
The WW2 (World War 2) ordinance is the usual 20mm and 40mm obturator (also called traveling band) and pieces of mechanical detonators from the 40 and 100mm shells. It is interesting to find and if nobody wants it at least I can recycle it. Worth more than an equal number of pennies (a lot more than eaten up zinc pennies that are worth nothing).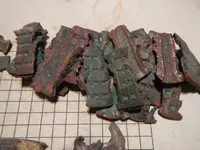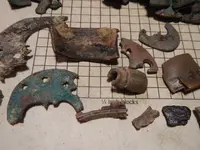 I went to Ocean City on 2 different days and I spent 9 hours searching sections of the miles and miles of beach there. Mostly I worked the southern part where the boardwalk and most of the action is. All together I found 137 coins with a face value of $11.11, some small bits of aluminum and brass hardware, a big cheapie hoop earring, a cremation tag, a Kennedy half, 2 tokens, a junior park ranger badge (made of wood with a metal pin on the back), a ring, another earring, part of a bracelet, a pendant, a huge fishing lure, 2 bills, lots of bottle caps, some tabs, foil and of course more tent pegs.
As I was detecting along the edge of the concrete boardwalk I noticed some aluminum bleachers in the sand that had been used for some event and looked like they were waiting to be picked up. As I got closer I saw what looked like money under the bleachers so I went over and sure enough it was a $10 bill. I went around behind the bleachers and looked under the foot rest for the first seat and there was a $1 bill waiting for me as well. It has been a while since I found any bills so it was a nice surprise.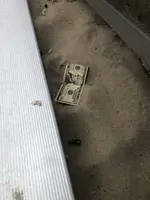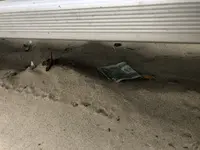 This is not the first cremation tag I have found on this beach over the years. I believe it is illegal to spread ashes on the beach here, but obviously it doesn't stop people from doing it. Maybe they didn't even check before they did it. The ring looked good in the scoop, but alas only gold colored. The Kennedy is a nice change, not many of those circulating out there.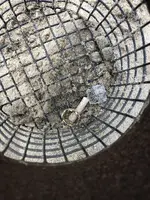 So this trip to the beach I only found 1 small silver, but I did find at least one of each coin denomination and 2 bills as well. We also found some goodies without the detector which is always a nice bonus. Thanks for looking, stay safe, good luck, and may your coil lead you to good things.