Jun 16, 2020
309
1,634
🥇 Banner finds
Detector(s) used

Started with a Minelab X-Terra 505 with stock coil or 18.75khz elliptical coil depending upon the site. Upgraded to Equinox 600 with stock coil, xl coil and sinper coil depending on circumstances.
Primary Interest:

Metal Detecting
Back in the rocky creek I found the 1734 one real in july and a little button. Year before I found a pewter spoon, a parasol handle, 1946 French franc and a tudor community plated spoon. I walked about a half mile up stream. It's not an easy walk. Slippery rocks, water goes from shin deep to wast deep in little sections.* Ended up with a great seal button, the 1930s rope bottle by Hazel Atlas and a complete shoe buckle frame. Two first detecting finds for me the metal stuff. The bottle was a bonus. Two crunchy Lincolns ones a 194_ other to far gone, a brass heart charm? And maybe a piece of furniture hardware?
Went back a week after hurricane flooded the area the area and found an amazing sterling silver spoon. Monogrammed JMC ? with date on 1903 on the back. Marked J.E. Caldwell and co which was jeweler retailer in Philadelphia. The spoon itself is made by Frank* Smith and called the New Port Shell pattern.* The next target was the thimble. Close to a mercury dime signal so I'm note sure if it's silver.* I can't find any markings though* it's heavy. Has a nice engraved band around it though it's in a foil band that's flaking off in two spots.* Then well I hit a patch of arcade tokens. 16 of them and I'm not sure I got them all.*
Bottles are from a dump.* Except the flask. Yes that bottle really has a very crooked neck. Believe it's a dip mold bottle because there's no seams. Pink tint lots of bubbles. Amazing the neck isn't broken off. Amber is just an anchor hocking bottle. Deco inkwell is marked parker so it's probably fountain pen ink. Found a sterling parker model 51 pen body last year so it's cool to have it's ink bottle.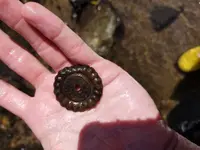 Last edited: