Feb 6, 2014
3,685
5,309
🥇 Banner finds
Detector(s) used

CTX-3030, Deus XP HF Round/Elliptical, White's TRX Pinpointer
Primary Interest:

Relic Hunting
Hey guys,
Just got back from a few weeks overseas on a mission, just itching to get back at my new site in SC. Recoveries so far have been killer with an assortment of early silver, 18th century toy cannon, and a 1740s 2 escudo counterfeit. Definitely get the feeling these guys have money, but I knew there had to be something special left in that dirt. Landed the jet, hugged the wife and son, and snuck away for a few hours of dirt therapy

. Few flat buttons and assorted lead had me a bit discouraged until the XP let out a broken chip among the iron. Flipped the plug, removed a few iron nails, and re-swung the hole...solid 75...definitely a flat button. Reached in with the pin pointer and pulled a heavily encrusted button.
Dry brushed like I always do in the field and noticed a ring of stars and shield. Knowing immediately what I had found, I just sat in the dirt in disbelief...my first rattlesnake button! Condition was rough given the salt water nearby, but 1000 flat buttons had prepared me for this one. Mineral oil soak, followed by careful mechanical toothpicking/brushing, along with a paste of baking soda/lemon juice. Finally a protective seal with renaissance wax...here is the progression
Normally I like to post all the finds together, but this one stands alone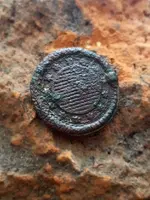 This one is the closest in Don's Insignia of Independence, but notice the head orientation is different...some believe these are revolutionary war, but could also be slightly later with a political/patriotic intent. Either way is an incredible piece of American history.
Another incredible recovery from this dirt and a bucket lister for any button collector. As always thanks for your comments and good luck swinging this week.