Aug 14, 2016
804
6,652
🥇 Banner finds
Detector(s) used

Deus XP
Primary Interest:

All Treasure Hunting
Earlier this week I was sweeping for nails in one of the horse paddocks and started turning up all sorts of buttons. Originally I thought they were off contemporary horse tack, but I found two large cents, one 1817 and one 1844. The buttons seem to be from around the same time, but I was wondering if people had any thoughts. Especially on the second checkered pattern button.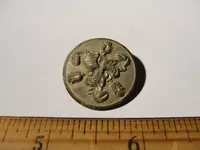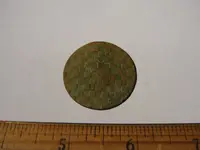 The first button is brass with the gilt mostly intact. There are some words on the back, but I couldn't make them out. It seems to be the three-piece brass type with the front and back held together with a strip around the middle.
The second is also brass, but a flat single piece and no writing on the back. There's no loop on the back either, but a spot where one might have been.
The third is brass with "Artillery" on the front top and "Reg" on the front bottom. The back has "Imperial Stand" and a wreath with an eagle on top.
There was also this more unusual piece that looks to be stamped copper, silver plated on the front. No writing anywhere.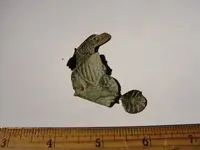 Any help is greatly appreciated and I'm sure there's more there so hopefully I'll have more mysteries to post!