May 26, 2009
6,045
13,145
🥇 Banner finds
Detector(s) used

SDC2300, Gold Bug 2 Burlap, fish oil, .35 gallons of water per minute.
Primary Interest:

All Treasure Hunting
I knew my partner pulled his phone out. I didn't realize until today he had posted a video on his page (if you like gold watch his videos)
I rarely video when I'm detecting so I'll share his.
The first piece shown I found with the SDC the second one he beeped with his GP4500.
Literally skunked all day as we layered down through some old throw out piles. The last hour we pulled out about an ounce and a half.
The piece I found here ended up having almost 16 grams in it. His was almost an ounce of gold. Plus some other bits not in the video my other partner beeped.
Here's my piece broken down and some of what was shed while breaking it down.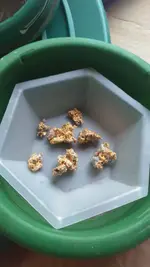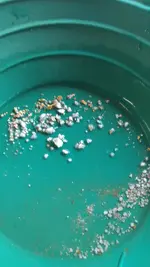 My scoop and boot in the background