Apr 20, 2018
1,733
8,714
🏆 Honorable Mentions:
Detector(s) used

Fisher CZ-21, Minelab Equinix 800, ,Garret AT Pro,
Primary Interest:

All Treasure Hunting
The 1980 high school class ring I found November 7th was returned today.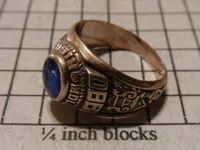 ​
I discovered that I knew a classmate from the school's class of 1980 and she got me the name and address of the ring's owner. The owner lives 134 miles away and I didn't have a phone number so I sent her a letter and she called me an told me the story of the ring. It was actually her second class ring. She was having the original sized for her boyfriend to wear on his pink finger and the company doing the job lost the ring when they were shippping it. They replaced the ring and she knows this is the replacement because it does not have her name engraved in it. The original did. This one just has her first name on the side. She said that there were a lot of teenagers in and out of her house visit with her children when she lived in the area. Sometime in 2004 or 5 she went to get the ring from the her jewelry box to wear it and it was gone. She believes it was one of the teens, but does not know for sure. The thief must have lost it on campus where I found it. I returned it to her son who still lives in the area and he will give it to his mom at Christmas time.
I met him at his work place to return the ring this afternoon and the funny thing is his work is across the road from the campus and less than a half mile as the crow flies from there I dug up the ring. Funny how these things work out sometimes.
No reward offered, but I don't do it for the reward. I do it because if you can find the owner it should be rerturned. I don't feel right about keeping it. If I had gotten a reward I would have donated it to the Boy Scout Troop anyway.
Thanks for looking and may your coil lead you to good things.