Aug 14, 2016
797
6,599
🥇 Banner finds
Detector(s) used

Deus XP
Primary Interest:

All Treasure Hunting
Weather was fantastic this past weekend, obviously a far cry from today.

It was my last opportunity to do a couple of spots that I'd promised people I would take a look at. There was virtually no chance of 18th century finds so they were lower priority, but I still check out any spots that I get permission for just in case.
The first was a late 19th to early 20th century cheese factory which isn't something you come across every day. Just a large sloped, yard now with no trace of the foundation left. I was positive it would be an extraordinarily trashy site and I was correct. Almost every step had a screaming signal and they were invariably large pieces of iron or lead. I found a disturbing number of lead pipes for a food production facility, and some larger brass fittings that I had to go down a foot or more for. Finding smaller coins would have been impossible with the interference, but I was hoping that I would luck onto a half dollar.
After about 50 pounds of trash I got yet another screaming 90s tone and dug a wide and deep plug. At first it looked like another piece of trash brass, certainly not a coin, but then the light hit it just right: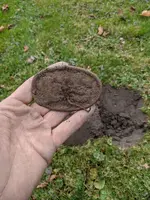 Civil War era US belt buckle!!!

Never in a million years thought I would find one in my area, let alone in this particular yard! Did some careful work cleaning it, but as it turns out the soil was relatively kind to it and the lead back was pretty much fine. All the damage seems to be contemporary.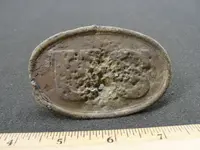 It almost looks like it was hit point-blank with buckshot. There's no trace of the hook on the back, but it has "puppy-paw" studs so it could even be pre-war I suppose. Pretty crazy find and I really wish I knew how it ended up where I found it.
The next yard was from an 1840's house used by tenement farmers. Once again lots of modern trash with a number of older finds mixed in. The ground wasn't quite as saturated with iron so I did pick up some older coins: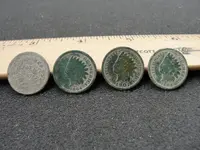 Three IHPs and a civil war token. The token looks to be an 1863 Robinson & Ballou Grocers token, but it's in rough shape. The other three are pretty well preserved though, 1864, 1901, and 1908.
Not far from the coins I dug up another bucket-lister that I wasn't at all expecting: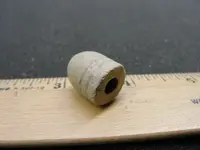 Dropped Williams cleaner bullet! I knew it was Civil War era out of the ground, but it took me a little while to identify since I've never seen a cleaner bullet without the plug on the bottom. I know these are fairly common on battlefields, but around here even a Minnie ball is a rare dig and I didn't think I was going to cross this particular variety off the list unless I took a trip down South!
Some other cool relics turned up between trash digs.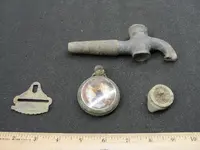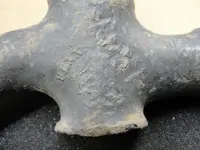 A nice dollar pocket watch which is always fun to dig, but particularly nice in this case since the paper face was preserved beneath the glass. The pewter barrel spigot is the first intact pewter example I've found and has some of the manufacturer's name visible on the side. Seems to say "Fenns & ---- No 8." Not much on the manufacturer themselves, but they seemed to be in business towards the beginning of the 19th century. I found a reference to Fenns Faucets in an archeological summary of an ~1810 sunken ship. Amongst the other artifacts was a barrel full of these exact spigots which I thought was very cool!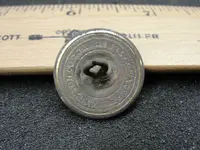 The button is another fantastic first, a New York Central Railroad uniform button! The Waterbury Button Co backmark suggests this was used between the 1860s and 1890s and almost all of the gilt was preserved. Really nice piece and a great way to top off the hunt!
Now there's almost 2 feet of snow on the ground so I seriously doubt I'll be detecting again before the year is over. Still, some solid Civil War finds hundreds of miles from the nearest battlefield is a pretty good way to cap any year!