Jan 13, 2021
49
60
Detector(s) used

Minelab Vanquish 540, Bounty Hunter Discovery 3300, and my keen intuition...
Primary Interest:

All Treasure Hunting
Back in 2016 I bought 30 acres of rural land that was a plantation in the 1800s, and then was a modern farm up until the 1970s. The idea came to me recently that I really ought to metal detect this place. Knowing absolutely nothing about detecting, and not wanting to invest too much initially, I ended up buying a Bounty Hunter Discovery 3300. This unit seemed beginner friendly enough that a novice could handle it, but also offered enough features to offer worthwhile detecting. Well I've put about a dozen hours into using it so far, which I understand is barely scraping the surface when you're learning a new (to you) unit. Despite only barely knowing what I'm doing, I've already managed to find some interesting relics.
That said, I've come to realize that my land is highly mineralized (red clay galore), so I've been experimenting with manual ground balancing on this 3300. It does help with Pinpoint mode, but the manual is vague about whether Discrimination mode and/or All Metal mode are filtered through the manual ground balance potentiometer. I've read conflicting opinions on the internet, but most folks say that the manual ground balance only works in All Metal mode. However the manual itself on page 19 says this: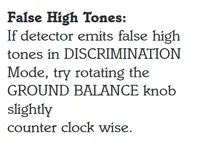 It stands to reason, that Discrimination mode must be filtered through manual ground balancing, if it is affected by adjusting that potentiometer. Right?
The areas I'm searching right now are awful trashy with old iron, so I tend to run in Discrimination mode to filter junk iron out. I've recently ordered the 4" sniper coil to help with isolation too. I'm also planning to get a 5" DD coil for this unit, as I've read that style of coil works well in highly mineralized soil. That said, if anybody is a 3300 expert and has some tips about getting the most out of this detector, I'm definitely listening. Especially concerning using a 3300 in trashy and highly mineralized soil.
Thanks