Jun 15, 2017
2
15
Primary Interest:

All Treasure Hunting
Hey, newbie here. I found this old iron Kedge style anchor in the Bahamas while freed icing off of Chub Cat in about 20 feet of water. It is approximately two feet long and a foot wide. I think the two (Kedges?) ideally Swivel to form a grapnel shape, but I'll need to clean some more to be sure. There was about half an inch to an inch of corrosion and encrustation on the outside, most of which has been removed.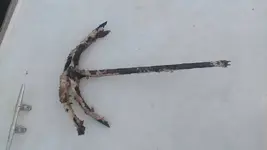 .
I would appreciate input if anyone knows what type of anchor this is and how old it likely is.
It is going right back in a tub of salt water again until I can finish cleaning it and more properly preserve it if it is worth the effort.