Apr 24, 2017
2,368
4,218
Detector(s) used

Whites Eagle Spectrum
Primary Interest:

All Treasure Hunting
I didn?t want to farther hijack another posters thread so I thought I?d start this one, poster was showing some paddle/t- drills, has me wondering about my own.
?The rhyolite drill would be classified as a T-base drill according to the classification scheme used in the Massachusetts Archaeological Society?s New England artifact guide. It?s not a paddle drill. Of T-base drills, the guide states: ?Late Archaic-Late Woodland. These seem to derive from either Brewerton Eared Triangles or Levanna points, and have been found in assemblages containing both of them.? It would not be related to Neville points?.illustration from MAS artifact guide..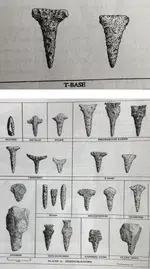 ?
This had me wondering a couple of things, I would assume the north east would have its own dates and associations with various forms, with my find all being from se Kansas I was curious if a t drill would still likely fall in the same range or if location changes everything.
Also looking at the chart posted all the drills have a base tied to a certain type of point. It seems most drills are exhausted points. I have to think though at some point someone needed a drill and instead of making or using a good point then working it down to a drill they would have just went to a drill form immediately. Any idea if there is just a pure drill, could it be some of those t based drills are just drills and not necessarily associated with a point type?
Could this just be a drill or should I be looking into large points with a straight base for a possible type and age association. Been playing in photoshop to condense different angles into a single picture.