Mar 8, 2014
255
1,513
🥇 Banner finds
Detector(s) used

Bounty Hunter Sharp Shooter, Whites Spectrum XLT, Whites MXT, Fisher CZ-21, Garrett AT Pro, Minelab E-Trac
Primary Interest:

Metal Detecting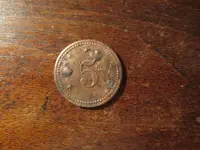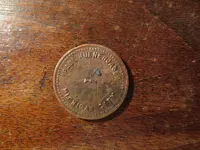 This was actually found Sunday night. Wish I had taken pictures then because it was completely unidentifiable. I found this in a roadbed that was under construction and it was completely encrusted. I thought I might have a 2 cent piece.
Spent Sunday and Monday peroxiding and toothpicking it with little luck. So I decided to electrocute it.
Dug up my old model rocket ignition system and spent about 2 hours electocuting and toothpicking it. Still some stubborn spots but feel she's presentable. Wanted to share.
I am unable to find any information on it.
RLS