After a couple of "trial" hunts for "targeting only Quarters & above" - I have now expanded this to five more short "quarters+ only" hunts, and have been surprised with the results; Total of 74-quarters, 4-dimes & 6-cents - and a 2007-P Washington Dollar ($19.96 face) - AND a GOLD 10K, Marquise cut solitaire Diamond Band. But the surprise is - that I was rejecting "tabs, nickels & Gold" targets to concentrate on super "high tones" of mostly "quarters-halfs-dollars-etc."
So, while under the bleachers of a large local College's baseball & softball complex & digging another quarter I spotted something "golden" to the left of me sticking out of the ground near the surface - but was about 75% buried and did not realize it was a ring until I plucked it out of the ground - AND even then I thought "costume jewelry" until I saw the 10K mark and a very small marquise cut diamond(after testing). So it pays to "investigate" and scan the ground while searching.
The truth is that a GOLD ring was the very last thing I thought I would find while using this "high tone" procedure, but it was a visual find not with my detector - "LUCK" can be the only answer to a "surprise" like this.
THANKS for Looking - GOOD "LUCK" & HH.........BILL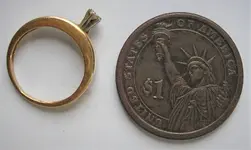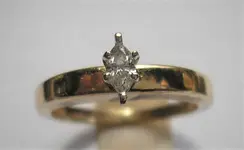 NOTE: The diamond ring had NOT been cleaned yet with soap, water & brush. So just posted last picture which is after cleaning - THANKS
Last edited: