May 29, 2009
1,452
950
Detector(s) used

Minelab Explorer SE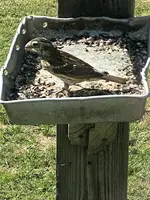 female black headed Grosbeak. thought it was a rose breasted 'til this am when the male showed up.
purple finch, red bellied woodpecker, family of chickadees. requisite cardinals.
funny what caught my attention this am was a call I wasn't instantly familiar with. Turned out it was a male Northern Oriole squawkin' at the male Black headed Grosbeak. The oriole was camera shy I guess so I just got the Grosbeak. But what a pair of beautifully colored birds. Wish I had gotten the shot.
maybe tomorrow.