Dec 14, 2017
1,593
3,484
🏆 Honorable Mentions:
Detector(s) used

Nokta Makro Simplex+, Garrett ACE 300, Carrot
Primary Interest:

Metal Detecting
Today was my third day hunting in a row... the first two attempts at hunting were anything but successful but I finally got on to it today. I was hunting at two homesites dating from 1830s-ish to the early 1900s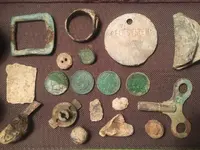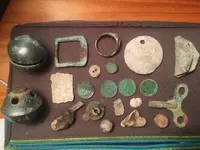 All the days finds... I don't think the two crotal bells are terribly old but it's still fun to see em come out of the ground.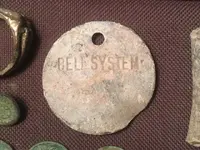 Any ideas on how old the Bell System tags are? I think they are from the Bell System telephone companies but I would be happy to be corrected. The folded thing is another tag, an exact match to the round one except it is an octagon.
Here's the goodies... this is the most Indians I've found in a day! The dates are 1864 (no L, not a fatty), 1881, 1895, and 1896.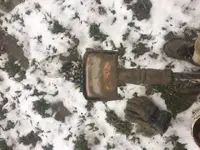 What a mucky mess! I had to lick the coins to see what they were haha. Happy hunting yall! I look forward to seeing everybody's year's end posts!
Last edited: