May 26, 2009
40
1
Detector(s) used

Whites MXT, Fisher 1280x, Garrett Propointer
The Grand Rapids, Grand Haven and Muskegon Railroad Company was a subsidiary of Westinghouse and the trains were powered by overhead power lines in urban areas and a third rail between cities. The railroad had a barn on the property next to the Pavilion and Pomona Park where the engines were serviced. In the 1920's, popularity of automobiles led to the demise of the interurban train lines.
The building for the barn is still standing and is the home of Modular Systems, which makes a fastening system for shelves in pay telephone enclosures and for furniture companies. Tracks can still be found in parts of the building. The company also owns the property between the garage and the park which is mostly woods. I received permission to detect on the property. Hopefully, that will be another story.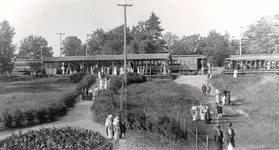 Here's a view of the Interurban station at Pomona Park. The picture was taken from the walkway in front of the Pavilion.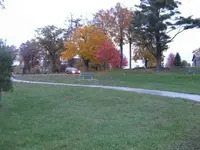 Present view of Pomona Park where the depot used to be.
Here's the Interurban barn, next to the park. You can see the trains in the garage.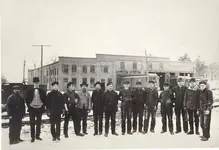 Interurban workers by the tracks in front of the barn. They are standing on what is now Park Street in Fruitport.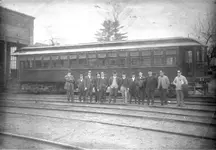 Lettering on the train say Grand Rapids Grand Haven and Muskegon.
The interurban barn today is owned by Modular Systems.