Feb 14, 2017
606
1,977
🏆 Honorable Mentions:
Primary Interest:

All Treasure Hunting
I haven't hunted much lately. The heat and humidity here in SC is absolutely unbearable. Well that changed today when I got a call from my neighbor down the road.. he had lost his wedding ring. Normally I get a call from neighbors to look for property markers, lost tracker parts and tools. So even though I don't particularly enjoy hunting in this heat, I was happy to try and find it for him. It's an old farm and one of my best permissions. Moreover, he and his wife are great people.
He wasn't sure where on his farm or for that matter exactly when he had lost it. He just knew that he noticed it wasn't on his finger yesterday some time shortly after he had pressure washed his house after working on his truck out at the barn.
His house is quite large and surrounded by large hydrangeas and butterfly bushes. So I did the best I could with the smaller HF coil. Then headed over to the barn. I gridded out that area and worked it twice but all I found was some .22 casings and a few tore up pennies. Determined to hunt for his ring for at least until I couldn't handle the heat, I worked my way back to the house and back through shrubs once again. There wasn't too much room for much swinging of course. Targets were all non ferrous junk.. easily heard using my program and double checking with the graph.
So I decided to set down the detector and use the XP pinpointer with the sensitivity cranked up. I started at the tops of the hydrangeas and shoved my hand in deep in one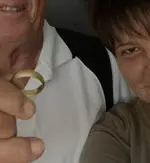 when I heard a couple beeps. I kept pushing downwards until my face was almost in the shrub ...the beeps were increasing. So I got down on my hands and knees and lifted the shrub up so I could get to the center of it. This is where it gets kind of funny. You have to understand...I'm a girl...I don't do bugs! Moreover,it's so hot the snakes want out of the heat, too. So hello no I didn't want to stick my head under there AT ALL. But my pin pointer was going nuts ,so I went for it anyway completely against my arachno-herpeto phobia self.
There it was... at the base of the shrub inside the stocks. I grabbed it quick and got outta there believing that every creepy crawler had crawled into my hair. Had to have been there..lol. I laugh at myself often after the fact.
My neighbor normally thinks I have a fruitless hobby... not today. Here it is.. He's happy and I'm a filthy sweaty mess. Nonetheless, I'm happy to have found it.
Time for a celebratory shower and a cold beverage.