May 21, 2013
911
501
Detector(s) used

Nokta/Macro Anfibio Multi / Nokta Fors Core /Ace 250 - w/ 9"x12" Coil /
Whites TRX Bullseye
Primary Interest:

All Treasure Hunting
Went to the beach today and there was about a 4' drop-off down to the wet sand. Oh Boy......
Found about $8 in clad and a nice old looking silver ring. Ring was black and encrusted. It cleaned up very well.
Pulled the ring from about 10" down in the wet sand. Almost gave up on it.....lost the signal and made one more scoop
and got it out.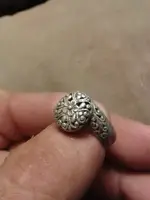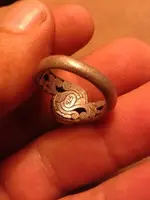 Last edited: