Gold Member

Jun 16, 2014
11,789
17,650
🥇 Banner finds
Detector(s) used

F75 LTD, 1280X Aquanaut, & an F2 (loaner)
Primary Interest:

Metal Detecting
I went out pondering if I should rehunt some old permissions. I ended up cold knocking. 1st house, the inhabitants rent and rather I get permission from the owner.

So I went next door and got the proverbial "YES".

The yard produced 3 wheats (1919 & two 1946) also pulled 2 rosies (1951 & 52D).

The hunt lasted three & a half hours, long enough to feed the dragon. The yard had quite a few shingle roofing nails. I did eke out some clad and 3 toys.
By the looks of my finds, I kinda sorta feel like I had a tabman hunt today.

Notables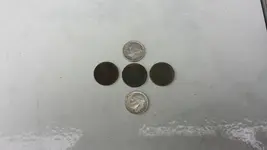 All Finds (- trash)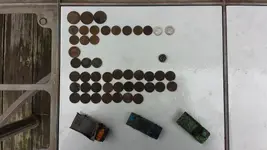 As always. I hope ya'll got out and swung the coil

today.
GL&HH
Loco-Digger