Jul 8, 2007
3,679
4,072
🏆 Honorable Mentions:
Detector(s) used

Extended Sensory Perception, L-rod, Y-rod, pendulum, angle rods, wand.
White's MXT, Garrett Ultra GTA 500, AT Gold, SCUBA Detector Pro Headhunter, Tesoro Sidewinder, Stingray, 2 box-TF900, Fisher TW-6
Primary Interest:

All Treasure Hunting
....this pictured couple are to be married! But last friday night the bride to be was hangin' out with the bridesmaids and Saturday after waking up her engagement ring was missing! I talked with her Sunday and we agreed to meet today to search. The wedding date was now 4 days out. The stress of the loss was taking it's toll on them. She last remembered having it on between the car and house and after getting into the house went right to sleep. She said she keeps it in a jar at night as it fits looser than it used to due to her amazing weight loss. So to start I wanted to eliminate areas so I searched the grass areas where she remembers walking but the MXT remained silent.
Our next step would be to check in the house. They had thought they covered all the areas where they thought it may be so I asked if she remembered anything upstairs before crashing and she showed me where the jar was where she usually keeps it. This helped us narrow down where it may be. I then suggested that we check thru the dresser drawers and clothes nearest the container. Scanning the contents of the second drawer down and between 2 shirts this gorgeous ring was hiding! She exclaimed in excitement that it was found and you could see all the stress just melt away! She remembered having the drawers open and moving clothes around quickly and she must have thought she put it in the jar but it slipped off. So now the upcoming celebration will be complete with all the emotion going in a positive direction as they begin their new life together!
Jon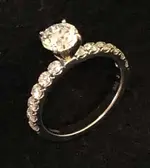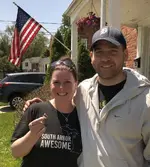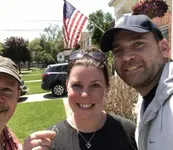 ​