Last Thursday was my only day off and of course i had big plans of getting up early and spending the whole day detecting.
As it turned out, i woke up with a sore throat and runny nose of epic proportions! To top it off, I was leaking out of one eye. Thank goodness it was the bad eye so my vision was not impaired. Still, i was determined to get out.
So, i headed off to a permission (Kleenex in hand) that i have been working for a couple months. Its loaded with trash so a 5 x 7 coil was my choice to help with target separation and minimize masking.
Upon arrival it was evident that my nose was going to be an issue. Although the trip was less than 30 minutes, i had already used half my supply of snot rags. My nose was literally dripping faster than i could blow! Considering the house is out of the way, abandoned and the Kleenex was useless i decided to just let it run.
Sure enough, within 3 minutes of swinging i looked like a 2 year old blowing bubbles where bubbles should not be. Still my detector was working fine and i just ignored the long strings of mucus blowing in the wind.
After about 30 minutes of detecting and several clad, i finally picked up my first wheat. Nothing special, (1937) and then a 1955 soon after. A bunch more clad over the next hour and then it happened!
Yep, my nose began bleeding. Not only was i dealing with snot, but bloody snot dripping on me, my detector and my finds! If i were from England, i would have been yelling "BLOODY HELL! "
Just the same, i continued detecting and the bleeding only lasted about 10 minuets. Not sure how much blood i lost but i will say this...it looked like a crime scene and i looked like the victim.
Finally, after a couple more hours of digging clad and trash i found this Ilco key.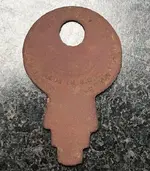 At first i thought it was a broken key and threw it in my bag with all the other trash.
But, after getting home and looking a little closer, i found the bottom to be too smooth to be broke.
A little hunting on the web confirmed it was not a broke key.
Any info on its age or use would be much appreciated.
Here is one that looks very close to the one i found.
Here is a picture of my finds for the day.
For sure i have had better hunts but this one is one i won't forget! Its not the fact that all i found was two wheat pennies and some clad or the fact that i dug a bag full of trash or even the fact that i found a key that i almost discounted as broken.
Nope...its the fact that i went out and hunted that day when i should have been at home drowning in a puddle of snot!
I guess we all have an addiction to one degree or another.
HH everyone!