Dec 14, 2017
1,593
3,485
🏆 Honorable Mentions:
Detector(s) used

Nokta Makro Simplex+, Garrett ACE 300, Carrot
Primary Interest:

Metal Detecting
Well, the Simplex is officially my new best friend. It was a Christmas gift and I had been dying to get out and try it, after getting a new permission I decided to get out for a couple hours. It was sunny and dry so even though it was in the 20s and the ground was covered in 2-4 inches of snow it felt pretty warm.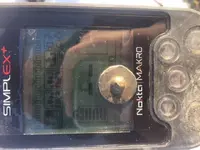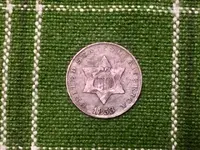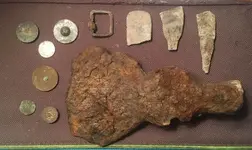 My first find was a nice big tombac button, the signal was pretty bouncy but that's how tombacs usually are for me. I was excited to find it as it meant I was on a pretty old site. Next I found a couple flat buttons spoon handles and even two convex buttons (I think the crusty one has a design, I think I'll post it in the What is it? forum later). After all this my shoulder was starting to hurt and sunset was rapidly approaching, I was just going to keep going for a little while and I hoped to maybe get another button or two. As I was swinging down one of the rows of the cornfield I got a faint signal I almost skipped over, however after I kicked aside the snow it got super clear. I popped the plug open but it was off to the side, after I took out another shovelful of dirt I saw something tiny, round, and shiny in the bottom and I literally gasped and said "NO!". A bunch of things were racing through my head... is it my long-awaited half real? half dime? fish scale? but a trime never crossed my mind! I immediately knew what it was when I picked it up and I briskly walked back to the car so I could drive home and clean 'er up.
Heck of a way to finish off the year eh? I'm actually going back tomorrow, I'll be happy if I can get a few more buttons but who knows, maybe there will be some more silver!
Happy hunting and thanks for letting me share this with yall!
EDIT: I made the pictures a bit better and easier to see...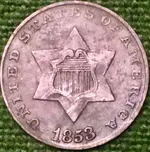 Last edited: