Jul 8, 2007
3,679
4,072
🏆 Honorable Mentions:
Detector(s) used

Extended Sensory Perception, L-rod, Y-rod, pendulum, angle rods, wand.
White's MXT, Garrett Ultra GTA 500, AT Gold, SCUBA Detector Pro Headhunter, Tesoro Sidewinder, Stingray, 2 box-TF900, Fisher TW-6
Primary Interest:

All Treasure Hunting
The pictured lady was out on a stroll this evening and her ring came off. When I talked with her we agreed to meet and search the areas where she thought it came off. She remembers it hitting the pavement and thinking it rolled into the grass not far from her house. I searched the grass areas with the MXT from where she remembers it falling off to her house, prob 1/8 of a mile, no ring signal. Darkness was upon us and I told her I would return in the morning at sunrise. I drove off wondering if someone found it. As I got near the street corner approx. 1/4 mile from her house I saw something shining back at me as the headlights got closer. I thought it was a coin, after I stopped and approached the object it was the diamond in her 18k rose gold ring sparkling in my headlights! I couldn't believe it! I called her and said how fast can you get to the end of the street and it seemed only a minute as she zoomed down the street and was reunited with her ring!
Jon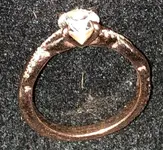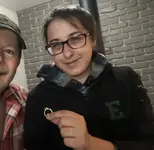 Last edited: