Jul 4, 2016
3,786
8,219
Detector(s) used

E-Trac, Equinox 800, Go-Find 66, ACE 250
Primary Interest:

All Treasure Hunting
Last night I returned to the small town park where they are building a spray pad. Squeezed a few more finds outta there!
Does anyone know what the thing with a six-shooter in it is? It have spikes on the back like it was attached to fabric maybe. I am also wondering what the rectangle with the shape of a woman?s boot on it is? It looks like a printers block but it?s all metal.
Today I noticed they cut a new path in the grass by a street reconstruction project that?s been underway for a month or so. Found a tiny Segrems Anciet Bottle Gin charm.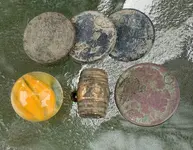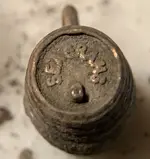 Thanks for looking!