I didn't expect to hear from this person. I have been saving all my clad and jewelry for the new AT MAX. But with with two girls and supporting my Mother in law had to cash all in for bills. I could have saved these class rings but I will return any ring I find if I can. My Birthday is July 23rd this person just had her 40th Anniversary and this is a good gift from me to her and her to me!!!! So long AT Max but it is worth it all the class ring returns with not any thanks. This made my day!!!!! Todays finds A 1952 Rosie a 42 wheat and clad. RRRRRRRRRR sorry abput the multiple pics my wife says dumb people shouldn't get smart phones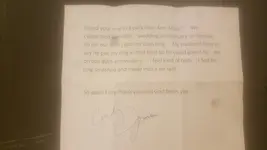 Here is what it says!!!!!! Cause my pics are so bad and they wont enlarge!!!!!! July 11, 2017
Dear Tommy,
I had to write you to say THANK YOU.
Forty three years ago my husband and I met in college at Concordia Junior College. We started dating and like some couples did back then we exchanged high school class rings. My ring did not fit my husband/boyfriend very well so he wrapped it with yarn to fit. He and some buddies played a softball game. He was in the outfield and removed his glove. Later her realized he didn't have the ring. He and his buddies searched the field. Couldn't find it. He and I went back the next day and searched. Couldn't find it. We graduated from junior college and went to Concordia College in Seward, NB to finish school. We got married, moved a few times, had four children and three grandchildren. I had forgotten about the ring. About two months ago my sister in law sent me a message asking "Did you lose your class ring?". I said "Yes I did". She said "I think we found it". I said "Where?". She said "Someone found your ring in a park near Ann Arbor.". We celebrated our 40[SUP]
th
[/SUP] wedding anniversary on Sunday. So for our 40[SUP]
th
[/SUP] I got my class ring. My husband likes to say he put my ring in that field so he could give it to me on our 40[SUP]
th
[/SUP] anniversary. I feel kind of bad. I had his ring smashed and made into a tie tack.
So again I say thank you and God bless you.
Last edited: