Jan 21, 2018
1,027
1,661
Primary Interest:

All Treasure Hunting
Here is my recent find…the mano.
It was found within feet of the metate, which was found a year earlier and apparently saw little use.
I'm not sure if they are a pair or not.
The mano was dug out by family pets recently, which was convenient. Unfortunately it bears scars from heavy equipment. Not sure how that could be restored or hidden. Rains may bring a few points as well.
Will photos convincingly show what I see?
The mano exhibits the characteristics that I've felt is necessary…a stone that is hard, yet will wear to match the metate and is porous enough to retain a "cutting edge" as it wears.
Second and third photo highlights the trailing edge which bears the most wear.
Always, opinions welcomed.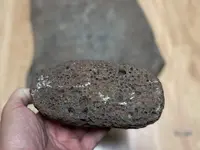 Last edited: