Recently there was a post about an early Qing dynasty coin found on a beach in San Diego while metal detecting.
http://www.treasurenet.com/forums/what/651258-my-turn-chinese-coin-i-d.html
After seeing that excellent find, I started researching for an even earlier Chinese Dynasty coin discovery in North America.
First is a post on this site from 2008. The Ming coin (the dynasty before Qing) was a banner find as well. The coin thread has 11 pages however there were questions regarding its authenticity.
http://www.treasurenet.com/forums/t...st-coin-date-1408-1424-d-update-new-pics.html
In 1993 a Ming Dynasty coin was discovered near the border of Alaska and the Yukon.
This find is documented in the following PDF link below. The photos about this find are from that pdf.
Alaska Journal of Anthropology vol. 10, nos. 1&2 (2012)
http://www.alaskaanthropology.org/w...icles_385_v10_n12_Mooney-Kristensen-Walde.pdf
The coin is a 永樂通寶 Yongle Tongbao which would have been minted between 1408-1424.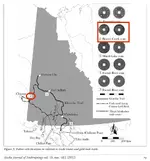 It was discovered by Keary Walde of Heritage North Consulting Ltd. According to the research on page 84 of the PDF It was "unlikely (but not impossible) that this coin arrived in the Yukon earlier than the first Russian posts in the late 1700s."
The document goes on to explain the coin may have been brought by a Chinese Prospector looking for gold or by a miner for the gambling game called fan-tan 番摊.
Happy hunting!
Last edited: