Oct 22, 2017
1,293
2,307
Detector(s) used

Equinox 800, Garrett ATPro, ProPointer AT, Retriever II
Primary Interest:

Other
You just never know what you're going to discover on this website from day to day.
Just two days ago I was combing an area I had been over many times and dug this nice little green key. I ran it through the ultrasonic cleaner and noticed the '56' stamp on kind of a dotted background.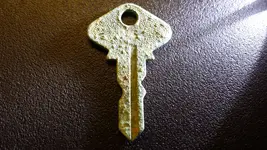 Didn't see anything on the other side but wondered about the lack of a groove.
By way of this recent thread by TNet Member Renaebri, I now know what it is. Thank you!!
http://www.treasurenet.com/forums/today-s-finds/592285-more-ford-stuff-road-tear-out-empty-lot.html