Jul 9, 2014
186
395
Detector(s) used

Garrett Ace 400, Garret Carrot, Recently retired Bounty Hunter Quicksilver
Primary Interest:

All Treasure Hunting
River was up from a few days of hard rain but it's finally coming back down enough to look for relics.
I have dug a lot of recently deposited spoons, lock pieces, watch pieces, including a vintage wrist watch, buckles, and other relics. Most of it's really toastie but will make good additions to a shadow box. Even found a marble yesterday.
The best find is probably this brooch or pin, appears to be a good sized amethyst with the stone measuring around an inch in length. Don't see any bubbles and see some slight hints of blue so I don't think it's glass and actually an amethyst. Surprisingly it still has the pin on the back, must have been buried in mud for a while.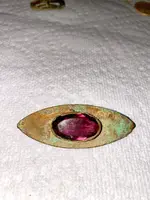 The buckle is kind of neat. I can't place what kind it is but have seen some of these somewhere with the decorative indentations around the outside. It's pretty toastie but was fused to an old piece of iron.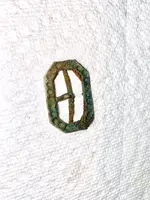 Also have been finding the Sunoco Antique car tokens. I believe they were popular in the 50-60s. You'll see them in the overall find photos.
Last piece worth mentioning is this name plate. It's basically from a very early 1900s company that started making vacuums. Electric Vacuum Co Inc. Partially founded by James Kirby before merging with GE later on. Thought it was part of a mason jar lid before seeing the design.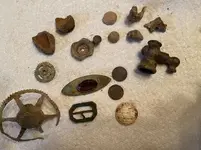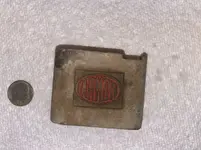 Last edited: