Jul 9, 2014
186
395
Detector(s) used

Garrett Ace 400, Garret Carrot, Recently retired Bounty Hunter Quicksilver
Primary Interest:

All Treasure Hunting
Back on the river. Found a lot of relics today. A lot of lids and makeup relics today. Kind of a long post but just trying to explain what everything is.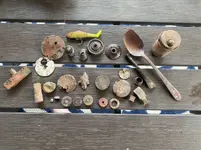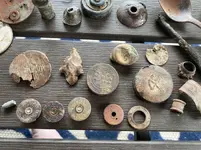 As you can see in the middle of the picture my first point/arrow head. Was in the water digging a brass/copper target and this fell out in a handful of sand and gravel. Actually put it aside then realized that the edge appeared worked. Sure enough.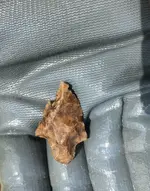 Makeup pieces are a The Reich-Ash Co. NY. Deere compact lid. Still has the glass/ or mirror inside.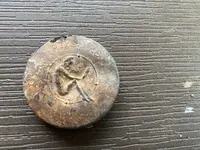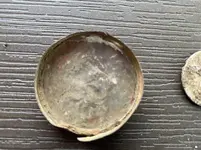 And a Tussy Royal lipstick case.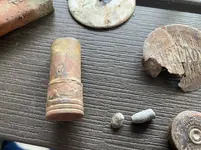 The lids are all older looking. One is a Beacon lid, another one is hard to make out because of the monogramed letters but it looks like LeT, L&T or LeF. Doesn't appear to be screw top either. The last is an Eveready. Prob from a flashlight.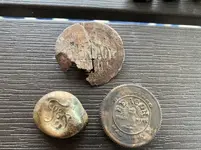 My first trade token (possibly a second)
The silver-ish one appears to say Good For In Trade. Maybe 27cents in the middle. The back has 1127 Grand K.C.M.O. Little toastie but neat. The other piece appears to be a token with a hole through the middle. Thought it was a washer at first but it's raised on one side and can make out a couple of letters. And it appears to have gild or some type of finish.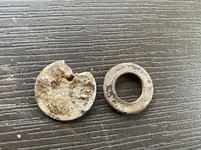 Couple more spoons. One whole and another handle. The handle appears old, maybe late 18th C. Similar to another handle I've found from that era. Possibly tombac or pewter.
Couple pocket watch pieces, one with some ceramic coating for the face.
And another neat piece, almost looks like a trigger guard or piece of a gun. It's hard to tell, maybe just thinking that because of the way it's bent. Has some ornate work on the one side. Not very thick so maybe not a guard ...not sure.
Just some other brass/copper things including some old shotgun shells
The canister is odd. Has a nozzle air can be added but the inside appears to be glass, maybe white plastic. It has a small hole in the bottom where I can see the inside. Was hoping it would be full of coins...prob not. Lol.
Last edited: