May 24, 2017
21
62
Detector(s) used

Garrett AT Pro
White's Treasure Pro
Tesoro Vaquero
Primary Interest:

All Treasure Hunting
So I went to visit my sister in law who live in Manayunk, PA which is in the Northwest part of Philadelphia.
Of course I brought my detector since it's an old city with lots of history.
I hunted a couple of parks and found that I couldn't get any decent signals beyond 4 inches.
I ground balanced at 91 which is about 10 higher than I do in Northeast Ohio.
I tried everything: 8.5" X 11" coil, 5 x 8 coil, manual ground balancing at different levels, various sensitivity levels, changed batteries etc.
Dug a hole about 4 inches down and put a quarter in the bottom of it. When I went over it with my coil I got nada, nothing, zip, zilch.
WTH ?
Any body else ever run into this sort of thing?
I guess I've never hunted in soil that was so highly mineralized.
I have well over 100 hours in on this machine so I know how to use it.
I normally hunt in Pro mode in zero discrimination with sensitivity anywhere from max to 3 bars under max. I like to keep my iron discrimination around 30.
I did manage to find over $6.30 in clad including 4 wheat pennies (oldest 1919).
I also found an old button that's pretty cool.
As soon as I got home, I went back to my test garden and my AT Pro works perfect. Just for reference, I get solid hits with my 8.5" X 11" coil on a quarter burred at 12".
Next time I will be taking my Tesoro and Whites.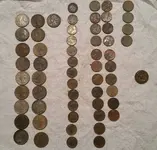 Last edited: