Jul 8, 2007
3,696
4,078
🏆 Honorable Mentions:
Detector(s) used

Extended Sensory Perception, L-rod, Y-rod, pendulum, angle rods, wand.
White's MXT, Garrett Ultra GTA 500, AT Gold, SCUBA Detector Pro Headhunter, Tesoro Sidewinder, Stingray, 2 box-TF900, Fisher TW-6
Primary Interest:

All Treasure Hunting
No news is good news is the all familiar proverb many of us use day to day to reassure us that without information to the contrary we can assume all is well. This wasn't the case tho with this nice, pictured couple after they searched for his lost ring last week while he was installing a vent on their garage roof. Just below the roof there's an attic area for storage. He was in 3 different areas in the space moving things around on the joists to make room to install the vent plus walking back and forth to the house. We talked Thursday and agreed to meet today to search.
When I got to the garage it was indeed a tight chamber with no room for both of us. I could just barely get into the area by crawling. Armed with my dust mask, goggles, Garrett carrot and a portable light I couldn't see directly into the floor joists where he thought it was so I probed with the pin pointer and found lots of nails. The material I was searching thru felt very light and the musty aroma upon entering the chamber reminded me of when I look thru old research materials...I thought hmmm... and as I sifted a bit more I got another signal. Thinking it was a nail I reached down and felt the shape of a ring! Getting myself over the joist with the camera revealed this gorgeous white gold ring that was covered with old newspaper insulation!
I yelled I got it, backed myself out and handed the ring with some of the newspaper to him and said, old news is good news! We both laughed, dusted ourselves off and took some pics.
Jon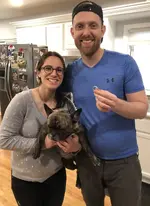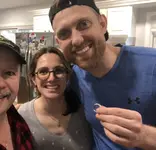 ​