Apr 5, 2019
5,776
31,412
Detector(s) used

My dads Whites MXT
Primary Interest:

Relic Hunting
I've been fortunate enough to get these bottles relatively cheap at antique shops in Pennsylvania and West Virginia. After collecting bottles for five years, I still don't have an Open Pontil bottle, but these early BIM, and Hinge mold bottles are cool too.
Though Congress Mineral Water bottles are fairly common, it had been years since I saw one for sale out in any antique shop I was in. This bottle dates to the 1870s, with a beautiful deep emerald green color and wavy glass. It has a small lip chip, but I love the bottle anyway. It's not often I find something this old in local shops.

Dr. Jaynes Carminative Balsam. This is a really neat bottle, dating to the late 1860s, early 1870s. It's got some staining, but in pretty good shape other than that.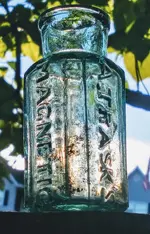 A. Trasks Magnetic Ointment. I've seen Trask bottles before, but all dated to the 1880s or later. This is an early version, Civil War era in fact. It has crude embossing and nice wavy glass. And I only got it for $1!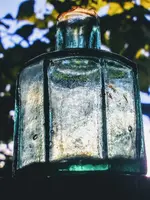 This teal/aqua inkwell has a sheared top, dating to the 1860s.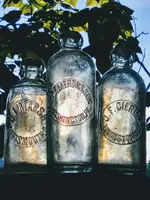 The hutches are all circle slugplates. The Washington PA nad Youngstown Ohio hutch date to the 1890s, but the J.I. Marsh Portsmouth Ohio hutch dates to the 1900-1910 era, and was made by ROOT glass company.
This 1890s Hoster beer bottle is the older version of a bottle I found two years ago.