Aug 12, 2008
356
1
Detector(s) used

White's Surfmaster PI/Garrett Ace 250
OMG, I can't believe I found one!
Winter has finally set in here in Florida. The sauna-like heat and humidity have passed, the mosquitos and biting gnats have frozen, the fire ants and yellowjackets have retreated to their hives, the rattlers and moccasins are curled quietly in their holes, and the alligators are snoozing soundly in their dens.
After a rather hectic Thanksgiving weekend, I got a chance late this afternoon to get out for a little detecting on my parent's farm. We'd had heavy rain several times during the last 48 hours, and I've had good success after previous rains, so I was hopeful. The farm dates back to the 1880's, but before today the oldest coins I had found were some wheats from the teens and 3 Mercurys.
I decided to try a pecan grove about 100 yards behind the house, where I had previously found 3 sling buckles which appeared to date from the late 1800's, a couple of ring shank button backs-one a Waterbury- , a couple of older wheats, and a large musketball. This area is much less trashy than the yard of the house, and I thought that might give me a chance at some deeper, older coins.
I had only been hunting about 10 minutes when I got a good coin signal. The visual display had the cursor staying consistently in the notch between dime and penny and the depth meter said 4-6 inches. A good shot at a wheat at least, I thought, and I hoped it was an IH which I have yet to find. I dug down about 5 inches and put the dirt into the small plastic tray I carry(formerly a cooler tray). You can't "dig a plug" here because the soil is too sandy- it just falls apart. I checked the tray and got a coin signal. This one's easy, I thought, but I was wrong. I spent the next several minutes sifting through the dirt, and swinging the coil over it, then resifting, but just couldn't find the target. I knew it had to be really small, and began to think that it was one of those little shards of brass that I frequently find on this property. Finally, I began picking up handfuls of dirt and swinging them in front of the coil. On the third handful, I got a signal, carefully opened my hand, brushed aside some dirt and saw a small dark silvery disc. Mercury! I thought, but when I looked closer, what little I could see of the design just didn't look " right" for a Mercury.
Maybe it's a 3-center, or some type of real, or a cool old token I thought, getting a little excited.
Then I held the coin up close to my eye, flipping it over and turning it around again and again until I saw the word "HALF" staring up at me! I jumped up and yelled "I can't believe it, I can't believe it!" So, I proudly present my 1857 Half Dime: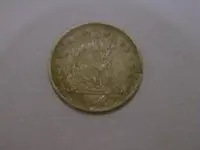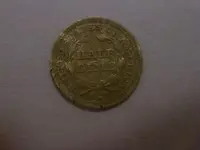 I did gack the obverse with my digger, but I don't feel that bad, since there are several old gouges in the coin which appear to have been caused by a farm implement. The obverse is less worn than it appears in the photo- the folds of the dress can be seen and most of the letters of Liberty also. The date is very clear. This coin is
really small
Here is a pic for comparison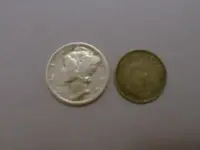 I thought it would take me many years, if ever, to find a half dime. This is my first seated coin and my first coin of any type before 1900- so, needless to say I am very pleased with it. It just goes to show, if you persist through the "dry spells" you'll eventually have a good day.
Good luck to all and happy hunting!