So, we got out both days this weekend. Sat. we hit up our fav park. Didn't do as well as we hoped but got a nice Ilinois occupation token. I love finding tokens. And the park was jamming as there was some party with good tunes to liven the hunt.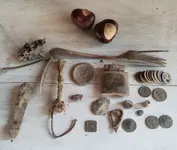 Today we went back to the old foundation in the woods. We find lots of relics but have only ever found 2 coins. About an hour into the hunt, Bob is yelling for me to get over there. I knew it had to be good! OMG! Is that a large cent? We were so excited we almost called it a day so we could run home and clean it up! But we hunted some more and just found ammo and oddities. Check out the metal beetle! And we saw this guy!
Well, we get home thinking we have something cool like you east coast diggers. It looks good but we cannot find anything like it? And no date...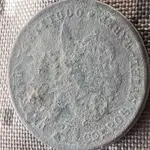 Turns out SPIEL MARKE means play money!! Lol. I think it is old though as internet said circa 1850. Let me know if wrong. Gotta love digging in Illinois!
Have fun out there!!