Sep 26, 2012
634
303
Detector(s) used

Whites XLT
Primary Interest:

All Treasure Hunting
This park will be opening for the first time for UTV's ( ONLY ) . Went for a ride at the park today as a passenger in Mountain Off Road Enterprises 4 door show Jeep with Andy thier company sales rep out of CO . office . Yes , I was grinning ear to ear the whole time .
: Here is another way to find the Property ENTRANCE : ( If you've ever been to the quaint town of Foxburg along the Allegheny river , where the Foxburg Inn & Winery are , you would be about 5 - 10 minutes from Rob's property . Foxburg is on Rt. 58 . When leaving the Inn & Winery parking lot , cross over the bridge spanning the river . At the stop sign on the other side , go straight across up the hill on Rt. 58 . Six Points will be on Rt. 58 about 4-5 miles ahead . The ENTRANCE to the park property is on the left 200 yds before your in the village of Six Points . )
So , I got you all some pictures and as much of the Info as I could . Now , I really need to STRESS the RULES OF CONDUCT at this ride area . Rob ( our host ) is still kind of hesitent at allowing UTV's into his Jeep playground . How can I say this ? We need to be on our BEST behavior . This place is very family oriented and TRAIL RULES are strictly enforced . NO racing around , littering or making ANY type of shortcut off of a trail . This place is for casual trail riding ONLY. Don't think the trails are'nt challenging though . There are many technical trails everywhere . These trails are for testing & challenging Jeeps from mild to extreme . There is mud , rocks and any combination of the two . But , at NO time during the 2 hour tour did we go over 5 - 10 mph . There are'nt any play areas that some people like to do donuts or fly through mud bogs . The trails themselves should get you plenty of mud just riding them . They have the usual terrain we're used to seeing at most organized ride areas . They have old growth forest trails , meadows and glacial deposit boulder areas .
That being said , once again , this is the first time Rob will allow anything other than Jeeps on this property . We need to be on our best behavior & respect the great riding area he and his staff have created . I believe all of the members I've ridden with here are some of the BEST people I've ever met . I also assured Rob of the character of the members here . We understand how difficult GOOD ride areas are to find . I think once you see and ride these trails , you'll understand why he is so protective . It really is a nice place . So , here are some of the pics I got while on tour .
Some extra info I recieved is , we can start showing up at 8:30 am . There will be a drivers meeting at 9 am and trails open after the meeting . We will be expected to be off the trails by 5 pm . Extractions & rescues being the ONLY exception . The small town of Six Points will have a food consetion available for us from 10:30 till 3:00 on Rt. 58 . They are about 200 yds up the road from the entrance to the park . They have hotdogs , hamburgers ,sloppy joes, pop , water and chips at very reasonable prices . So, if your within driving distance to this park and you have a UTV , gather up your gear for Sept. 29th . It should be a great time and a long awaited chance to experience a great new riding area in District #4 .... For more info CONTACT :
http://www.meridianoffroad.com/parkinformation.html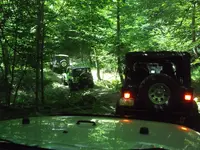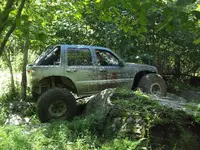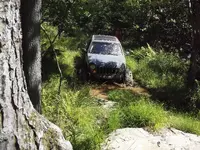 Last edited: