Feb 21, 2013
4,659
5,762
🥇 Banner finds
🏆 Honorable Mentions:
Detector(s) used

Teknetics T2 SE (DST)
Spare Teknetics T2 SE (backup)
15" T2 coil
Pro-Pointer
Bounty Hunter Pioneer 202
Fisher F2
Fisher F-Point
Primary Interest:

Other
I found the orb photo from this summer. More like a glowing ball than an orb IMO, what do you think?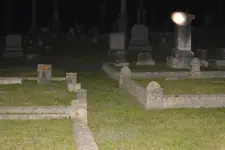 Also found this creepy ghost photo...
Yes, That photo of the "ghost" is fake, just a long exposure I did when some family visited over the summer.
Edit: Opps, Accidentally attached another photo of the "ghost raccoons"

Last edited: