Found last month in a northern MN field
last month, right before they temp went below zero. I believe the area has been home to Chippewa, Ojibwa, Dakota.
I've looked at Overstreet and all over the net but can't find examples of an axe like this, so any info will be greatly appreciated.
The most notable thing about this axe is its faceted surfaces, each one distinctively finished by either pecking, grinding, or flaking. I've never seen an axe with all these techniques visible. The facets are of varying thickness, cleverly designed to deliver forc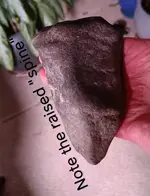 e without damaging the axe or making it heavy. It's comfortable to grip as a hand axe, but does anyone know if these were also hafted into tomahawks?
So many questions!